Twitter feeds, RSS feeds

Twitter feeds, RSS feeds

Philadelphia Videos, YouTube & Live Streaming Video ▼ LOAD LIVE TV




Quickfound.net's Vimeo channel features documentary, educational & training
films which have been improved with both audio and video noise reduction.




Twitter feeds, RSS feeds

Twitter feeds, RSS feeds
Philadelphia Weather

National Weather Service
Philadelphia Radar










More Philadelphia News (search)

Philadelphia downtown skyline in about 1913... click for Library of Congress Philadelphia pics
The New York Times, December 21, 1872, p. 3:
PHILADELPHIA.
The Business and the Business Enterprises of Quaker City.

Statements that Appear Strange, but are Nevertheless True. People Actually Live in Their Own Houses in that Favored Locality.

Characteristics of the Philadelphian—
On Inquiry He is Ascertained to be a Methodical Person with Manufacturing Instinces—What He Makes and Its Value.

From our Special Correspondent

Philadelphia, Friday, Dec. 20, 1872.


A gentleman remarked to me today, "Philadelphia has hardly begun to grow yet." The city is spreading in all directions. Never has building been so extensively carried on as it is now. No less than 6,295 building permits were granted last year, and in the course of time, the city bids fair to entirely cover the 120 square miles of land which are within its limits in accordance with the act of the State Legislature of 1854. Squares upon squares of houses now stand where four of five years ago young men used to play base-ball and go gunning, and, even down in the old districts, the city has encroached on apparently natural boundaries, and some of its features as Penn knew it are swept away.

For instance, Dock Creek, at the mouth of which William Penn first set foot on the site of future Philadelphia, was a considerable stream of water which formed a natural canal into the heart of the city. It is entirely built over, and merchandise is now transported along its route in heavy wagons instead of in vessels. How great and complete is the change may be gathered from the fact stated in the local records that a vessel "loaded with rum, from Barbados," once lay and discharged her cargo on the very spot now occupied by the time-honored Girard Bank, on Third-street, and that one "John Reynolds lost his only daughter by drowning in Dock Creek, by Hudson's alley." This latter spot is now Hudson-street, above Third-street.

Thus Philadelphia has grown and grown till it now numbers a population of over 700,000 men, women, and children.

One cannot pass four and twenty hours in Philadelphia without noting some characteristics in which it conspicuously differs from such densely-populated trading centres as New-York, Chicago, and Boston. One of the more immediately obvious is the tone of domesticity pervading the city.

This has nothing to do with what is termed "Quaker influence." I have no reason to suppose that the average Philadelphian is instinctively more moral than the average New-Yorker or Chicagoan; but there is one element in his mode of living which should tend to make him so. It is the general custom of every man inhabiting his own house; a custom demonstrated by the vast area covered with houses suitable and only large enough for the families of men of very moderate means.

The piles of unhealthy, crowded tenement-houses which are the bane of New-York City are not to be seen here. The class that lives in hotels and boarding-houses is very small in numbers. Every one lives in his own rented or purchased house, from the mechanic to the millionaire; and one result of this is shown in the comparatively few places of amusement to be found here in proportion to the population.

Men and women in other cities, who cannot find the privacy they seek in the general parlor of a boarding-house, and who do not care to pass their evenings in their bedrooms, rush off to the theatre and the concert-room. Here, they stay at home; enjoying their evening in a quiet and domestic fashion, and resting themselves after the labors of the day, instead of still further exhausting their energies.

I have conversed on this topic with several young married men who are engaged in our own profession—journalism—a profession not remarkable for its emoluments or for the thrift of those who follow it. To my surprise, I found that they all own the houses in which they live, and that some of them have already paid a considerable portion of the purchase money on their homes. I naturally inquired how this was brought about, and was quickly enlightened as to the simplicity of the arrangement.

A soon as a young man has saved a few hundred dollars he at once begins to cast about to buy a house in a pleasant locality. When he has made his selection he buys shares in some building association, on which he pays regular monthly installments. Every week the privilege of borrowing money to pay for a house is put up to auction among the members, at a rate of interest limited to six per cent. per annum. The one who bids the highest premium gets the building loan for that week, buys his house, and gives a first mortgage on it to the society. In a stipulated number of years the installments on his shares and the interest have paid for the house, and yet they do not amount, in the course of a year, to more than the equivalent of a very moderate rental.

Again, land-owners build large squares or blocks of houses and sell them on such easy terms that all are tempted to buy. Yesterday, I saw an advertisement in the Ledger, inserted by a well-known Philadelphia capitalist, from which I extract all that is valuable to those who may be interested in this house-owning question:



"To Newly-Married Persons and Others who are Talking of Getting a Home.—I have built at ---- and ---- streets, (within seven blocks of ---- street) with a view of improving the neighborhood, thirty-one handsome eight-room and bath-room, small three-story Manard-roof houses. They are built of good material and under superintendence, and are now just about being finished; any house can be ready for occupancy in four days, if desired. The houses recede from the street, and have little gardens in front, and front bay-window to parlors.

They will be sold to reliable persons on terms that they can pay off in small sums each year. The first payment required is very small. The title papers are perfect and guaranteed, so that no trouble can be given."



I took the liberty of calling on this gentleman, and asked him about the houses, and on what terms he would be prepared to sell me one. They are eight-roomed edifices, in a nice street, and have heaters, gas, bathrooms, and marble mantle-pieces. They are built of red brick, with brown-stone facings, and have cheerful bay-windows in front and small gardens in front and rear. I told him that I had just arrived in Philadelphia, but, of course, did not hint that my visit was likely to come to an end in a few days. He informed me that the price of one of the houses would be $4,100, including $84 a year ground rent; that if I could bring good references as to my respectability, he would take $300 cash down and quarterly payments of $50 of the balance, I to pay him six per cent. per annum interest on the unpaid purchase money, and give him a deed on the house which he was to retain until the whole $4,100 was paid. In this way the house would have been mine in nineteen years, and, in all probability, worth two or three times as much as the purchase money, while the quarterly payments and the interest would only have been the equivalent of a rent which a New-Yorker would be delighted to pay, and bless his stars that he was housed so cheaply.

This system has the double advantage of keeping young married men from saloons and billiard-rooms, simply for the reason that they have a nice, comfortable home of their own; and of making them thrifty, in order to pay the interest on the purchase-money, and the purchase-money itself, a neglect to do which would bring on them a foreclosure of their mortgages and consequent loss of part of their purchase-money already paid. But the healthfulness of a great city is also promoted by such a system. The city is spread out instead of being built upon high; and, though the population of Philadelphia is considerably less than that of New-York, I should judge that Philadelphia boasts by far the greater number of houses. What effect this may have on the death-rate of the city I do not know. But Philadelphia, like New-York, boasts two breezy rivers and wide avenues, and, I should think, ought to be a particularly healthy city for the reasons given above.

But perhaps the most striking difference between New-York City and Philadelphia is to be found in the character of the main business of the two cities. It is common to remark that Philadelphia displays no business energy and enterprise, and to contrast her unfavorably with New-York in this respect. It is also customary to attribute this alleged lack of enterprise fo the effects of "Quaker influence."

This Quaker influence is a bugbear with many. They look upon it as a cause of delay in the onward progress of Philadelphia, which may some day be disastrous in its effects by turning the trade of the city into more active channels. These alarmists are, for the most part, men who desire to jump at large wealth rather than to labor steadily for its acquisition. Now, I cannot see, in the first place, any traces of this much-dreaded Quaker influence; but in the second place, I do see unmistakable evidences of wide-spread energy and enterprise.

With regard to the Quakers, I am told that they number now but a trifling portion of the population of the city. A gentleman, himself a member of the Society of Friends, told me, today, that he estimates the number of Orthodox Quakers in Philadelphia at 5,000 or 6,000. I can say this, that I have been over three days in the city, during which time I have been roaming about in all directions, and that I have encountered only one broad=brim, and have yet to see the first coal-scuttle bonnet. So far, from their peculiar teachings and austere habits of life exerting any influence over the business community, I hear them always spoken of with respect, but also invariably as being of no special account, as a body or as individuals, in the circles of trade.

The power of the Quaker in Philadelphia is gone. He has been set aside by a more acitve and more worldly generation. As to his delaying the growth and commercial progress of the city, the figures which I give below are the best denial to so silly and uncalled-for an assertion.

But there is a very marked difference in the character of the business of Philadelphia and New-York City. The stranger does not note here the everlasting hurry-scurry of Broadway and Wall-street. And for this reason. As a whole, the business of Philadelphia as compared with that of New-York is legitimate rather than speculative; production occupies the plsce of jobbing and importing.

Philadelphia is a truly great manufacturing city, and her business men are to be found in widely-scattered factories, rather than in whole thoroughfares of crowded counting-houses. The young business men have been educated to be manufacturers. They are content to follow in the footsteps of their fathers, and accumulate wealth by useful and productive industry. They feel that they cannot manage their factories and at the same time launch out into more speculative and less legitimate undertakings; and it is this holding back from ventures for which they have no time or liking that lends the more daring New-Yorker or Chicagoan to charge them with a lack of business energy and enterprise.

But let any unbiased person take a run through those factories, and see the thousands upon thousands of men, women, and children employed in them. Let him note their annual production, and the high class of manufactures turned out from them. He will remark, too, in nearly every one, some additional building that has been run up within the year; some new and costly machinery in process of erection, to meet the ever-increasing demand for their supply. Which men, think you, are more useful in their generation, or more entitled to the regard of the whole community—these steady, hard-working, pushing producers, or the more go-ahead, but less stable jobber and speculator in grain and dry goods?

That Philadelphia is a great manufacturing city, ever advancing and enlarging, is proclaimed by the fact that, according to the census of 1870, she had then 8,500 manufacturing establishments, the aggregate productions of which reached the startling total of $335,000,000. After making all fair deductions for increase of prices, this large sum represents a production more than twice as great as that of the year 1860. But Philadelphia has made rapid strides in the last two years. New factories have been built, old ones enlarged, and new manufactures introduced; and I am credibly informed that the lowest estimate of the present manufactures of the city is $400,000,000.

To this large manufacturing business must be added the shipping trade of the port and the enormous trade in coal, oil, &c. The total quantity of coal brought to Philadelphia by railroad and canal in the year 1871, for domestic consumption alone, was 2,052,013 tons, an increase of 5,994 tons over the year 1870.

The first full cargo of petroleum which left the United States was shipped from Philadelphia on the 19th of November, 1861, in the brig Elizabeth Watts. The brig was 224 tons register, and carried 1,329 barrels of crude oil. In 1871 Philadelphia exported no less than 55,363,347 gallons of petroleum to foreign countries, against 49,949,737 gallons in 1870. The refining capacity of Philadelphia is about 4,000 barrels of crude oil per day.

But let us look for a moment a little more in detail into the enormous manufacturing business of Philadelphia. Let us see what manufactured iron, cotton, woolens, chemicals, and other products this city distributes in the course of a year. The census returns of 1870 give statistics which, though of course far below those of the present year, are more reliable as a source of information than any estimates of today, hastily made by individuals are likely to be, and are so recent that any one, by adding a probable increase to them, can judge what the present manufacturing business of Philadelphia is and must be. They were compiled by Mr. Lorin Blodget, the General Appraiser of the Port of Philadelphia, a gentleman well known for the laborious and intelligent spirit which he brings to bear on such a work, as for the inflexible justice with which he would scrutinize the returns forming the basis of his information.

These statistics tell us that 137,876 hands earned $61,948,874 in producing $384,852,458 worth of manufactured goods in the year 1870... the figures appended only embrace the leading manufactures of the city. I have arranged them in the form of a table in order that they may be the more readily appreciable: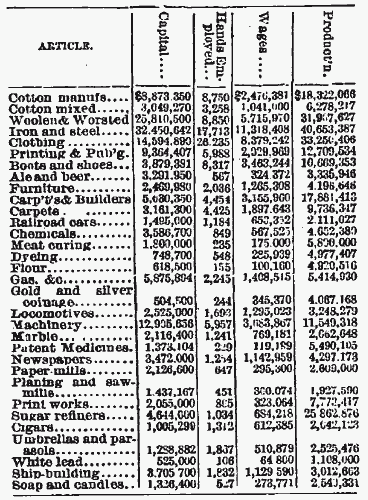 The above figures only comprise the leading and most extended manufacturing products of Philadelphia. There are others innumerable, aggregating a very handsome annual amount, which bring the grand total to $335,000,000. It is an industrial exhibit of which Philadelphia may well be proud, and which may warrant her in exclaiming, in the tonsorial parlance of the day, "Next."